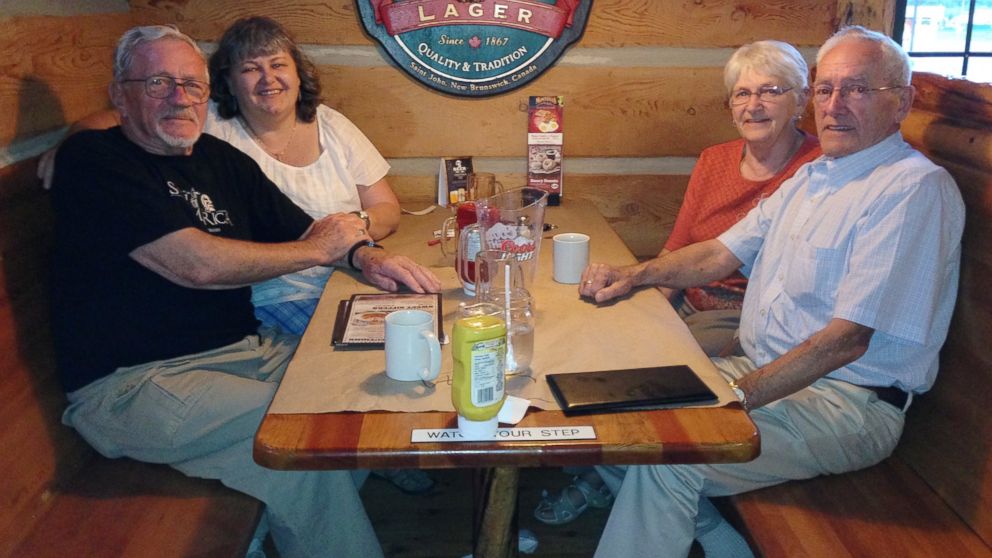 A nurse in Edmonton repaid a decades-old kindness this month. Terri Ward rushed to the bedside of the man who helped deliver her on the side of a road 52 years ago.
As a young cop out for the first time on patrol car duty, Gordon Cameron was trained to keep his eyes open. A car speeding toward the local hospital, however, was not exactly difficult to spot.
The driver, Glenn Ward, told Cameron that his wife was having a baby in the back seat and immediately left for the hospital to get help.
Cameron stayed behind as the woman gave birth to a baby girl. Recalling the incident to
CBC News
, Cameron remembered: "I opened up the back door and I heard this lady, laying on her back and saying, 'Don't just stand there, hand me my baby.'"
After the roadside delivery, both mother and child were admitted to the hospital. But Cameron did not stick around long enough to find out more about them.
Over the next 50 years, he often wondered what had become of the newborn and where she was now. Hoping to learn about the family in the 1956 Ford Meteor, Cameron contacted the Edmonton Journal and reporter Brent Wittmeier started "fishing."
"This is what I do. I dig for people, and I try to find them," said Wittmeier. He mined the archive, searched online directories and called every "Ward" in Alberta, but none were related. Using a "pre-Internet version of 'reverse look-up,'" he sifted through the residents that had lived at the address Cameron provided. Among them were "C. Glen Ward" and his wife, Pauline.
When further investigation led nowhere, Wittmeier made up his mind. He resolved to make a "last-ditch effort" to locate the family. He would dial one more number. Glenn and Pauline Ward--now retired in Sackville, New Brunswick--picked up the phone. "When it panned out, I couldn't believe it," Wittmeier remembered.
Wittmeier connected the Wards and Cameron in 2012. Cameron has been in touch with them ever since. Still, it was not until two weeks ago that the retired police officer laid eyes on the now-grown woman once more.
Cameron had returned to Moncton, in New Brunswick, to attend the funeral of three Royal Canadian Mountain Police gunned down on duty on June 4. The somber visit took its emotional and physical toll on the 81-year-old. After collapsing in the crowd due to dehydration, he was rushed into an ambulance.
When she heard of the crisis, Terri Ward, 52, did not hesitate.
"I was on a day off, but I went right up," she said.
She and her parents met Cameron at the hospital and assured him that he was in good hands. They would know. Ward is a nurse at the hospital.
"My wife and I and our daughter were up to see him every day until he left to go home to fly back to Alberta," says Glenn Ward, 77. "For my daughter, it meant an awful lot. Terri and him hit it right off."
Cameron has recovered and has since returned to Edmonton, but Glenn Ward is confident that the two will stay in touch. "Maybe she'll get out West to see him," muses Ward. "I think she'd like that."
Despite the alarming circumstances, Terri Ward is grateful for the unexpected quality time together: "He was only supposed to be in town for a little while, but I guess things have a funny way of turning around."