As a product design student at the College for Creative Studies in Detroit, Veronika Scott developed a heavy-duty, lightweight coat that turned into a sleeping bag, as part of a class project. It seemed like the perfect product to help homeless people, until a woman in a shelter shouted at Scott one day: "We don't need coats; we need jobs."
In January 2012, a month after graduation, Scott launched the Empowerment Plan, a nonprofit that employs homeless women and teaches them to sew by making the coat. With stable, paying jobs, they're empowered to decide what kind of job they want next, "to decide what kind of person they want to become," she said.
It wasn't easy for Scott: She was an art student, not a businesswoman, and her family wanted her to find a more traditional job.
"I didn't think I was the right person," she said. "But I recognized at that moment that I was, because nobody else was going to do it."
Skeptics said homeless women wouldn't be solid employees. It wasn't a problem, Scott says: She found many women hungry for good jobs. But they didn't always understand that it was OK to fail, so long as they learned to fix their mistakes.
Few women she hires know how to sew, Scott says, but within a few months, they can create a coat in hours.
Since launching in a homeless shelter closet with just a few people, the Empowerment Plan now employs 20 people. Every month, they make 550 coats, which are distributed for free to homeless people in Detroit and through outreach programs across the country. Production is limited only by space, but that is set to change soon: The Empowerment Project is expanding beyond its 3,000 square feet inside Ponyride, a creative workspace in a Detroit warehouse.
This year, The Empowerment Plan expects to launch a "buy one, give one" program that will make it sustainable beyond the donations and sponsorships that keep it running now. Hunters and backpackers who've asked to buy the coat will be able to do so, and the Empowerment Plan will still create coats for homeless people who need them.
More important, Scott says, the Empowerment Plan will be hiring.
Friday, March 28, 2014
By Jack Coates
In May 2001, I was diagnosed with
medullablastoma
. I was 19 years old and had just finished my freshman year at Johnson & Wales University in Rhode Island.
Medullablastoma is a cancer that affects the brain and the spine. I had three surgeries, 52 weeks of chemo, and six weeks of radiation. I spent a year and two months in the hospital and went from 217 pounds to 97. I was scared. I was asking God: "Why? Why did it have to happen to me?" It was shocking. Many things went through my mind.
While I was sick,
my family helped in my recovery
. My mom fed me and took me to appointments; my dad lifted my spirits; and my older brother, Steven, visited and chipped in. When I moved home from the hospital, I shared a room with my sister, Kelly, who always pushed me to get better.
A week or two before my transplant, they started their search for a donor. I'm not always a lucky guy, but within a few days I found out that they found a donor – my sister. Some people have to wait years to find a donor; I found one in a week.
In 2011, Kelly completed her first Boston Marathon. She wore a ribbon on her jersey with my name on it. She'll run again this year as part of the
Dana-Farber Marathon Challenge
team.
On March 7, I had my yearly MRI. Everything was clear, and I am now 14 years in remission. Currently, I am doing physical therapy and occupational therapy at Spaulding Rehabilitation Hospital to get stronger.
I'm extremely lucky. If it were not for Kelly, I wouldn't be here right now. I don't think there is anything I could do to thank my sister enough for saving my life, except to start living life. Before my transplant, I was working at the West Suburban YMCA in Newton. Recently, I went back for the first time to visit, and I will be going back to work within the next few weeks. I have a fiancée, Mary. We got engaged the Christmas Eve before my transplant. Turns out, luck may be on my side.
"I still can't believe that even happened," one player said.
"I felt like there was no one who could stop us," said another.
"I will remember this game for the rest of my life," a third player said.
The game was against their arch rivals, Mount Airy High School. But to fully appreciate what happened here, you first need to know how Coach Josh Thompson prepared them for this night.
It all started a few days earlier with an old ball and a gold Sharpie. Coach Thompson told each player to pick someone to dedicate the game to. Could be an uncle, a grandpa -- one kid picked his parents.
They all enjoyed the exercise, but it's safe to say no one took it more seriously than junior guard Spencer Wilson. He picked his friend Josh Rominger.
"Josh's passion for life just really drew me towards him," Spencer said.
Spencer and Josh were two great friends with one lousy thing in common: they both had cancer. The difference was Spencer beat his, and Josh didn't. He died nine months ago.
Spencer wrote a letter to Josh's mom explaining what they were doing and why he would be playing for Josh.
"Just wanted to let you know the impact your son has on my life, to this day," Spencer wrote. "I will never forget him. Play for Josh."
"I read it and cried," Josh's mom, Deena Rominger, said. "They just had that bond. Nobody else knew how Josh felt, except for Spencer."
Spencer said he still thinks about Josh every day. That's why this opportunity meant so much to him.
"During the timeouts, when we touched the ball, I found where I wrote 'Josh,' and I looked for that," Spencer said. "Put my hand on it every single time."
Spencer thought of his friend, whom he said "meant a whole lot to me."
Which brings us to the end of that game. With two seconds left on the clock, Bishop down by a point and their rivals at the free-throw line, Bishop needed a miracle. And some say that's exactly what they got.
"Rebound comes down to Gardner, leads it ahead to Wilson, he's going to lob it up from 3/4 court," the announcer said. "That's got a shot -- it's good! Oh my goodness! Spencer Wilson from 50 feet out wins the game for the Villains!"
In the official record book, Spencer Wilson will get credit for that remarkable Hail Mary. But the boys at Bishop believe Spencer's friend Josh deserves at least an assist. And no matter what you believe, you've got to score one for friendship.
Thursday, March 27, 2014
A woman who, as a newborn, was abandoned in the bathroom of a Pennsylvania fast-food restaurant said she has found her birth mother just three weeks after launching a search that garnered worldwide attention, and as her mother prepared to look for her.
Katheryn Deprill, 27, said Tuesday she felt "pure joy" when she met her biological mother for the first time Monday at an attorney's office. And, after she learned the sad details of her conception and abandonment, she said she understood why her mom did what she did.
"She is better than anything I could've ever imagined. She is so sweet and amazing. I'm so happy," said Deprill, who has become known as the Burger King Baby.
The woman had decided about six months ago to launch her own search for the daughter she gave up.
Deprill began her quest on March 2 by posting on her Facebook page a photo in which she held up a sign that said, "Looking for my birth mother. ... She abandoned me in the Burger King bathroom only hours old, Allentown PA. Please help me find her by sharing my post."
The photo was shared more than 30,000 times by Facebook users around the world, and Deprill's story landed in numerous media outlets. That caught the attention of the woman who abandoned her, and she came forward to attorney John Waldron, who arranged for them to meet.
Deprill said she bears a very strong resemblance to the woman, whose name she wouldn't disclose.
"It looked like I was looking in a mirror," she said.
Deprill, an EMT and married mother of three who lives outside Allentown in South Whitehall Township, said she embraced her mother.
"I got the hug that I had wanted for the last 27 years, and that broke the ice," she said. "I asked if I could have it, and she said, 'absolutely,' and just held her arms open, and the rest is history."
The pair met for about four hours and exchanged contact information. Deprill said they plan to meet again.
"We are definitely going to have a relationship," she said.
Deprill declined to address the circumstances of her abandonment, referring those questions to Waldron.
The attorney said the woman said that, as a 16-year-old, she was raped while traveling abroad and became pregnant. The woman said she hid the pregnancy from her parents and, after giving birth in her bedroom, felt she could not take her newborn to the hospital because she would have to answer questions.
Waldron had his staff prepare for the reunification with flowers, chocolates and boxes of tissues. Deprill, who had launched the search with the blessing and encouragement of her adoptive parents, was accompanied by her adoptive mother and her youngest son, 7-month-old Jackson.
"It was one of the most emotional, joyful, dramatic, exciting things I've ever seen," Waldron said, adding there's no doubt in his mind that his client is Deprill's mother.
"If you sat there for five minutes and heard them and watched them and observed them and looked at them, you would know," he said.
Deprill said her birth mother expressed regret during their tear-filled meeting. She said she forgave her "110 percent, absolutely."
Twenty-one Bruins went bald yesterday and raised more than $118,000 for charity at Shawn Thornton's annual Cuts for a Cause shave-athon.
"I would say Dougie Hamilton had the longest hair. He hasn't cut it since this thing last year," Thorny told the Track. "Saying it was a mop is an understatement. He took it like a man, but I don't think he was looking forward to cutting it as much as Coach was looking forward to him getting it cut."
Bruins Matt Bartkowski, Patrice Bergeron, Johnny Boychuk, Gregory Campbell, Jordan Caron, Zdeno Chara, Jarome Iginla, Chad Johnson, Chris Kelly, Torey Krug, Milan Lucic, Andrej Meszaros, Kevan Miller, Adam McQuaid, Daniel Paille, Corey Potter, Dennis Seidenberg, Reilly Smith, Carl Soderberg, Thornton and Hamilton all went 
under the razor at the Boston Park Plaza hotel yesterday.
Fans had bid online for the chance to shave their favorite player, with all the proceeds going to Thornton's foundation, the Bruins Foundation and Floating Hospital for Children at Tufts Medical Center.
"It's fun to be part of things with your teammates and it's a way to give back," said Krug, who probably came in second in the mop department to Dougie. "And everyone gets a little bonding out of it."
So, guys, who would you say has the nicest-shaped bald head?
"Dougie's got a good-shaped head, I'm looking at it right now," Krug said.
"I'm surprised, there's no terrible-looking ones," Thornton added. "But I think I'm going to go with Kevan Miller. Millzy. He looks good."
Thorny said Seidenberg, who rocks the chrome dome all the time anyway, is probably the best-looking bald Bruin.
"He just comes for the free haircut," he joked. "He raises money and saves his own."
Krug said his new bride, Melanie, is sad that he lost his luxurious locks and he imagines the single guys on the team might not be quite the chick magnets they were pre-cut.
Which brings us to Brad Marchand, who did not participate yesterday.
"He really thinks he's a 12 with that terrible haircut he has," Thornton laughed. "He told me he's just a 9 without it. In his head, I think he's serious!"
Wednesday, March 26, 2014
A message in a bottle, with a story going back nearly 55 years, has surfaced.
Keith Moreis of Oak Bluffs was out walking on Long Point Beach on a bitter cold December afternoon when he found a small bottle in a clump of seaweed. Though Mr. Moreis could see a message printed on the bottle that said "break this bottle," he chose another way to find out what was inside.
"I used a corkscrew," he said.
Inside was a message on faint red paper asking that the contents of the bottle be sent to a Washington, D.C., address that was suspiciously old.
"It didn't have a zip code," Mr. Moreis said.
He decided to keep the bottle with his collection of other interesting beach finds. But when he heard in February that someone in Canada had also uncovered an old drift bottle, he decided to do some research. On Feb. 20 he took the bottle to Woods Hole, first to the Woods Hole Oceanographic Institution, and later to the National Oceanographic Atmosphere Administration Northeast Fisheries Science Center.
With the help of staff at the science center, the source and history of the bottle became clear.
Shelley Dawicki, a spokesman for the center, said with significant digging in the files they were able to determine that the bottle was released in the fall of 1959 from the U.S. Coast and Geodetic Survey Ship Hydrographer. According to records, the vessel did environmental studies in three areas off the New England Coast, and one was south of Noman's Land, or 36 miles south of Aquinnah.
Dropping message bottles was an early way to understand ocean currents.
Jim Manning, an oceanographer at the Woods Hole Laboratory at NOAA's Northeast Fisheries Science Center, said: "I am always amazed by the information we derive from these bottles. They did well in those days and drew up the maps that we are still using today."
Researchers have since embraced newer technology to study currents but Mr. Manning said they still use drop bottles, too. In fact, there was a bottle drop last fall south of the Vineyard, Mr. Manning said.
"You hear bottle stories here and there, but this was the longest I've heard," Mr. Manning said, referring to Mr. Moreis' find. "It was probably buried in the sand. I bet there are many more in the sand."
KALAMAZOO, Mich. -- A Michigan boy who said he didn't want an 11th birthday party because he had no friends is getting a new gig:
[+] Enlarge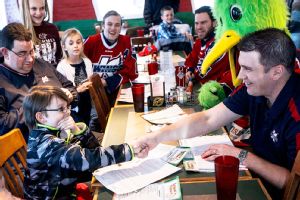 AP Photo/Kalamazoo GazetteKalamazoo Wings coach Nick Bootland signed an 11-year-old Michigan boy to a one-day contract that will allow him to join the team for Sunday's home game.
Professional hockey player.
Colin and his family were surprised by players, coaches and representatives of the ECHL's Kalamazoo Wings at a restaurant Tuesday. The team presented the Richland boy with a one-day contract that will allow him to join the Wings for their home game Sunday.
Colin has a condition similar to Asperger syndrome that makes it difficult for him to relate to peers. His mother created a "Happy Birthday Colin" Facebook page that drew more than 2 million "likes." He also received thousands of cards.
The family asked that its last name not be used.
Colin told the Kalamazoo Gazette that the outpouring of affection has "been very heartwarming."
Tuesday, March 25, 2014
Before the year is out, Randolph native Tony DeBlois will have traveled to Pennsylvania, Virginia and Los Angeles, among other places, entertaining at venues nationwide with his music.
DeBlois, 40, is a musical savant who is blind and was diagnosed with autism at the age of 5. To his mother, Janice DeBlois, who travels with him to every gig, spreading his inspirational message close to home is a treat.
"I think that anything that can show people that someone with autism is capable of all the things (Tony) can do, that he has the same dreams and goals as anyone else, is important," she said.
Virginia Polio, the head of the Catholic Daughters of the Americas chapter in Braintree, got the message. She said she saw DeBlois play last year in Scituate and knew she wanted to book him to play at the group's annual fundraiser, which took place Sunday at St. Francis of Assisi Church.
The event was a combination of a luncheon, a bake sale and a silent auction. DeBlois' renditions of Irish folk songs provided the backdrop for the gathering.
Polio said the money from each ticket sold will go directly toward the Catholic Daughters' charitable works. The group provides scholarships to students at the St. Francis School. It is also affiliated with several national and international charities, including Smile Train, which provides cleft palate surgeries to children in need.
Polio described Tony DeBlois as an "awesome talent" and praised him and his mother for their strength and positive outlook.
"I thought everyone would enjoy listening to him, and it is a real blessing to have him and his mother here," she said.
DeBlois knows how to play 22 instruments. He has been playing music professionally since he was 9, and graduated magna cum laude from Berklee College of Music in 1996. Before that, he attended the Perkins School for the Blind in Watertown.
He has been recognized for his achievements by the Boston Celtics and many other organizations, and the CBS television movie "Journey of the Heart" was inspired by events from his life. In addition to playing concerts all over the country and around the world, DeBlois does speaking engagements aimed at encouraging other people with disabilities to discover their potential.
After 31 years of touring, Janice DeBlois said, nothing surprises her anymore, but the thrill of helping Tony to share his music and his story is still there.
"It's nice to give people from our area who have seen him on TV but never seen him in person the chance," she said.