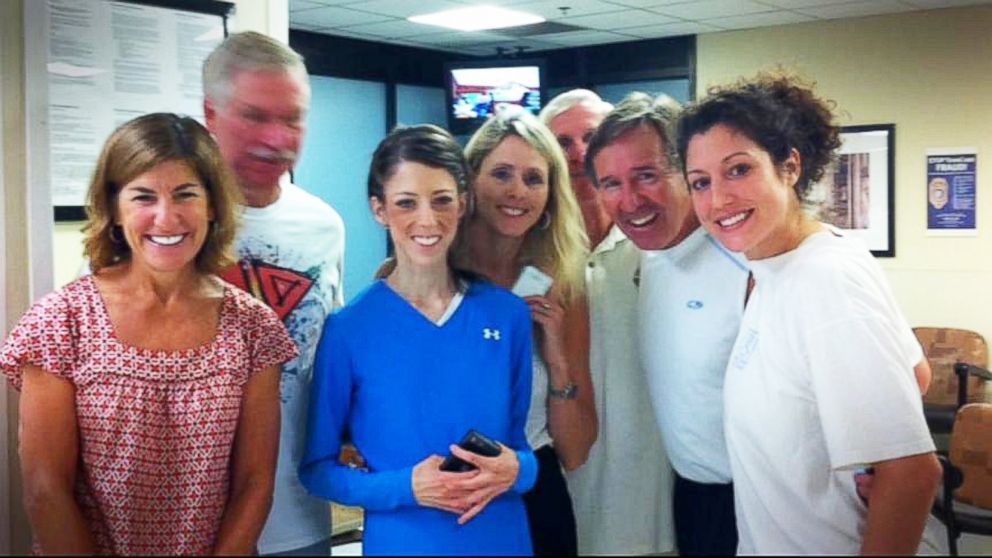 At first, Lauryn Lax's local YMCA was just a place to work out. But it became a place where her life would change. Technically, it was the Nashville Y's parking lot, where Lax was first approached by a group of fellow gym-goers.
A few of the gym's members began noticing that Lax, despite her thin frame, was constantly working out. They wondered if Lax was suffering from an
eating disorder
. Rather than sit and watch her wither away, eight gym-goers banded together and started thinking about ways that they could help Lax. One researched eating disorders online. Another tracked down Lax's parents in Arkansas. They confirmed that Lax had been struggling with anorexia since she was a girl, and they agreed to help with an intervention.
One fateful day in August, Lax was headed to the Y for what she described as "my first 2 1/2 hour workout of the day." In the parking lot, she was suddenly surrounded by the eight acquaintances from her gym. "I know we don't know each other," said gym member Louise Grant, continuing, "I have to tell you that I would like you to get some help. I believe that you have an eating disorder."
Although the group members were nervous about the intervention, with one later describing the emotional afternoon as "a horrible experience," their compassion paid off, and Lax says that she saw the light. Before that day, these people were acquaintances. Now, says Lax, they're "her angels."
Straight from the intervention, she was taken to the emergency room and then transferred to the intensive care unit at Saint Thomas Midtown Hospital, where her heart rate dropped dipped to dangerous levels, and doctors were prepared to implant a pacemaker if needed.
"It was the longest night of my life as Lauryn's heart rate hovered just above 30 until about 6 a.m. the next day, when her heart moved up to 33 or 34 — still dangerously low, but above the level where surgery was going to be required," her father Mike Lax told The Tennessean.
Eating disorders (EDs) have complicated origins, and they can be equally complicated to treat. In an interview with
The Tennessean
, Lax admitted that she had been suffering from anorexia for years, but felt her disease was too powerful to overcome. Her body issues started at age 10, and she had been hospitalized 12 times before she was approached at the gym. "It started controlling me," she told the newspaper. "I wasn't controlling it." On the very day of the intervention, "it was just a struggle to even work out 30 minutes less or to make myself eat a teaspoon of almond butter more."
Meanwhile, Lax's fellow gym-goers weren't sure if intervening was the right thing to do. If Lax had been dealing with a medical condition instead of an eating disorder, she might have been embarrassed by their concern. If she had been hostile or angry, she might have quit going to the gym altogether and continued obsessively exercising somewhere else. But because the stars aligned – the group of concerned strangers, plus Lax's family, were committed to helping her, the intervention was well thought out, and Lax herself was willing to listen and accept help – a woman's life has been forever changed for the better.
While Lax's "angels" were lucky that their intervention was successful, confronting a person with a severe eating disorder may not work in every situation, says Lynn Graefe, CEO of
NEDA, the National Eating Disorders Association
. Graefe urges friends and relatives to bring in an experienced professional.
"The important thing was expressing concern," she says of the gym-goers' intervention. "But if a person doesn't want help, you can't impose help." She notes that eating disorder sufferers often lash out at loved ones who are trying to help, and that someone who is specifically trained to work with ED sufferers can support the whole family.
Following the intervention, she spent nearly a year at a Miami-area treatment facility. Now, she eats balanced meals, exercises in moderation, and no longer owns a scale. And she is determined to pay it forward – she's completing a doctoral program in Occupational Therapy. From now on, she'll be helping others heal their bodies too.
Although Lax doesn't use the word "rescued," she acknowledges that the generosity and compassion of her eight new friends, with whom she remains close, have helped her begin to rebuild her life.
One way that Lax is handling her recovery is by keeping track of her progress on her blog,
Living for Today
. In
one post
, Lux, who has since relocated to Austin, gave background about what she was thinking on August 16, 2011 — the fateful day of her intervention at the gym.
"God is rarely early, but He is NEVER late — and everything happens in His perfect timing," she wrote. "I prayed for health, for freedom from bondage for YEARS … and He was always listening. The cool thing too? Time flies when you are having fun and living life … and today, August 16, 2011 seems like a distant memory. True freedom from eating disorders is possible, I believe."