Most people seek help when they're feeling down. Jodi Ann Bickley had a different strategy: she offered it.
The 25-year-old British woman was having suicidal thoughts after suffering a mini-stroke and encephalitis, which is a brain infection. Both led her to having chronic fatigue syndrome, causing Bickley to be unable to work.
"I had one night where I actually was like, 'I'm not strong enough; it's too hard,'" Bickley said. "And there are a lot of other people who have moments like this, where they feel like they can't go on. So I thought, 'I'm going to try to get these people out, too.'"
Bickley then started
One Million Lovely Letters
on Feb. 5, 2013, writing a blog post encouraging people who are going through a tough time to send her a request for a letter.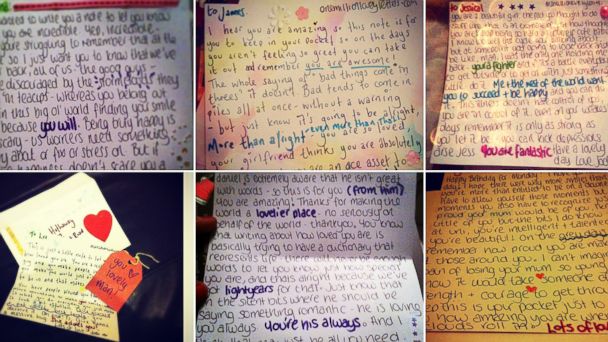 "Within half an hour I had 50 emails form people all around the world with their life stories," she said. "Stories you wouldn't wish on your worst enemy."
Within an hour, she had 100 responses and 500 in the first 24 hours. Since then, Bickley has written nearly 3,000 letters to people in 30 different countries, and she has another 2,000 pending requests so far.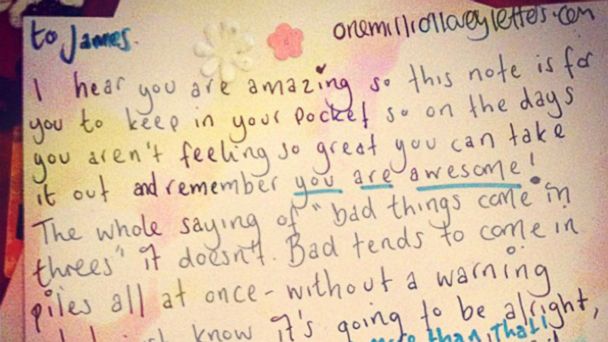 "I just get the saddest stories and it just shows how strong and incredible everyday people are. That everyday people are heroes," she said. "And it's been a privilege to help them through that."
What's been surprising for Bickley is how much these people have also helped her. She started a wall in her home with more than 200 notes the strangers had sent her back, writing on
Instagram
, "One of the walls in my house that gets me through the super sicky [sic] days."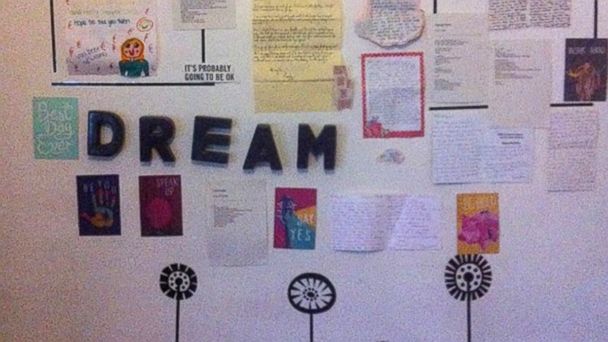 "I was getting letters back from people saying, 'You might not realize this, but those words that you wrote on that little piece of paper actually saved my life,'" she said. "It's really nice to be that ear for people and have that connection. It's been incredible."