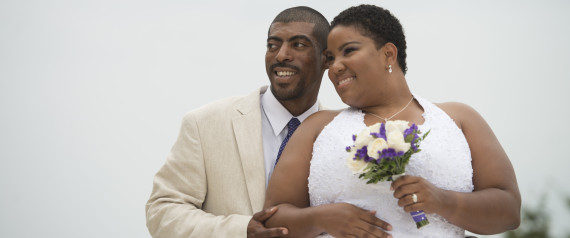 Ressurrection and Deven met at an unlikely place for romance: a homeless shelter in Virgina. After leaving the military, Deven had difficulty transitioning from military to civilian life. He felt lost and spiraled down a path of low-end jobs and eventually homelessness. Ressurrection -- a massage therapist and entrepreneur -- was forced to close her massage center and lost her home to foreclosure after ending a bad relationship. She, too, became homeless.
In August 2011, there was an
earthquake in Washington D.C
and soon after, Hurricane Irene hit. Ressurrection slept outside of the homeless shelter in her car, waiting for a bed to open up. She eventually made it into the shelter and it was there that she met the love of her life. But more on that later.
Fast forward to five months later when Deven came home from work one night and casually suggested that the pair get married. Ressurrection said "yes" and they began planning the wedding. The couple tied the knot on August 28, 2013 on the 50th anniversary of Martin Luther King Jr.'s "I Have a Dream" speech and the March on Washington. The theme of the wedding was "I Had a Dream, and It Came True." Afterwards, they fed the homeless at a park in D.C. in lieu of a wedding reception.
The couple has since focused a lot of time and energy on giving back. They started an organization called
Glory Soldiers Global
that focuses on eradicating poverty and providing healing, intervention and prevention of child sexual abuse. For more on their first meeting, read on.