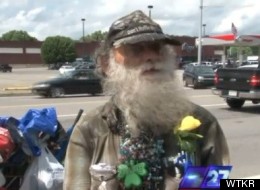 David Norton
doesn't have a home, but he has plenty of gifts to hand out to make people happy.
The Navy veteran, who lives in West Virginia, strolls through his neighborhood with a shopping cart filled with his belongings and the crafts he needs to make necklaces and flower arrangements, WTKR reported.
Norton sells some to make cash,
and gives away others to people who are in need of a day-brightener.
Some of the recipients of Norton's handiwork include a local church and a woman who can't leave her home. He made an arrangement of 14 red flowers for her.
This homeless veteran belongs to an exclusive community of people who still find ways to make the world a better place, even though they may not have a roof over their heads.