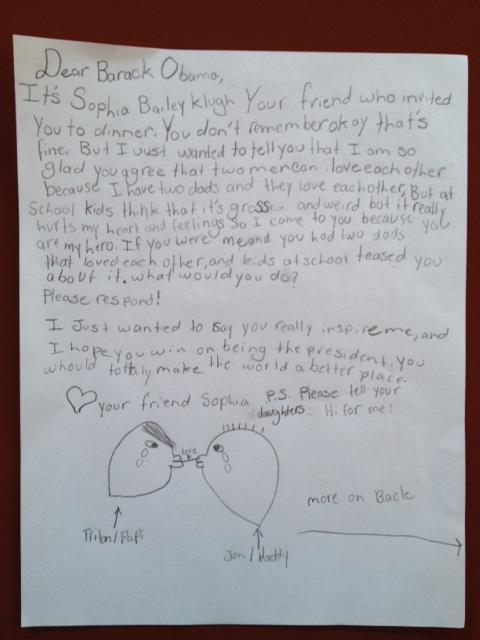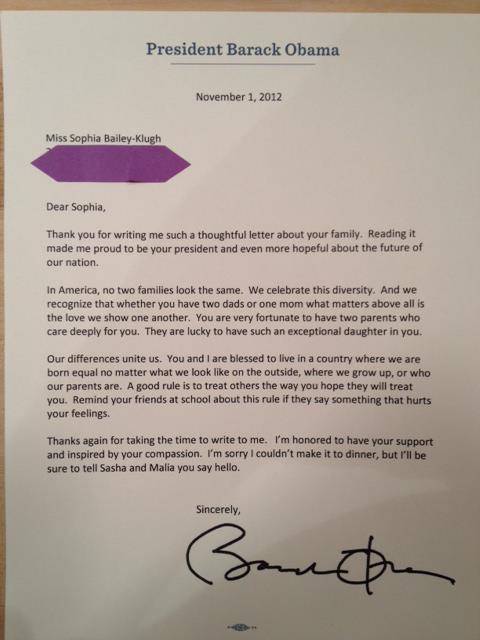 SAN DIEGO - A local 11-year-old who wrote a letter to President Obama about her two dads will be featured on the talk show "Katie" on Tuesday.
Sophia Bailey Klugh's letter to the president about her dads has generated interest nationwide.
"I think it's neat to have a sister that is kind of, like, famous," said 9-year-old Ava Bailey-Klugh.
Her sister Sophia has become so famous that Katie Couric taped an interview with her and the president has invited her and her family to the White House for the annual Easter Egg Roll next Monday.
A letter about her family is the reason why. Last October, Sophia wrote to the president about her adoptive parents, who are gay men.
Jon Bailey was so proud of his daughter that before she sent it, he took a photo of the letter and posted it on Facebook.
"It just blew up," said Bailey. "It went viral. In a matter of hours, it went all over the world and we were getting thousands and thousands of responses."
One of those responses was from the president himself. He sent a personal, signed letter back to Sophia.
It reads in part, "You and I are blessed to live in a country where we are born equal no matter what we look like on the outside, where we grow up, or who our parents are."
Now, with the same-sex marriage debate being taken up by the U.S. Supreme Court, Sophia and her parents are surprised that they are a major part of the national debate.
Triton Klugh told 10News that when he met Bailey 16 years ago, he would never have envisioned being at the center of the conversation about gay issues.
"It's pretty amazing to be here at this point and to have two beautiful daughters and to have all the support around us," said Klugh.
When asked what she would say to the president if she finally meets him next Monday, Sophia said, "It's been a great honor to come to your house and thank you for inviting us."